Data Center Services
High-value solutions for critical mission environments.
The best partner for Latin American Data Center Services
I want to learn more
7 important points about our products and services
1 – The continente is our home
In Latin America, we are in 12 countries. In Brazil, in 25 of the 26 states, plus the Federal District. Always available 24 hours a day, 7 days a week, 365 days a year.
2 – Within your budget
Better cost-benefit, leveraging your investment and performance/result. Based on the most stringent global certification standards, we have the best practices for safety and efficiency and sustainability.
3 – Agnostic and customized
Customized solutions and services to meet the specific needs of each client, with quality and results provided for in the contract.
4 – Center of Excellence
We have a unique service model in Latin America. Our team works connected in real time. Every situation is handled with direct supervision by the senior board. Our team provides on-site service, using Augmented Reality glasses, monitored remotely by specialists.
5 – Spare Parts
Our collection (at strategic points in the country) for the provision of original spare components is the most complete in Brazil. We guarantee agility in the predictive and corrective replacement of parts, as well as for immediate replacement of parts in malfunction. This dramatically reduces the unavailability of IT [Information Technology] infrastructures.
6 – Climate Intervention Team
Our climate event surveillance system allows you to act in advance and take preventive actions following a rigorous protocol to ensure the availability and continuity of operations in the event of a forecast for natural disasters.
7 – Rigorous partners
We have customers in several different areas – governments, financial systems, energy, oil and gas, industries, defense and cutting-edge technology. Our capability transcends industries
and technologies. With rigorous contracting protocols, they take into account certifications of the company and its professionals, as well as costs, solidity, and recognized market performance. Our NPS [Net Promoter Score] is – always – above 90 points.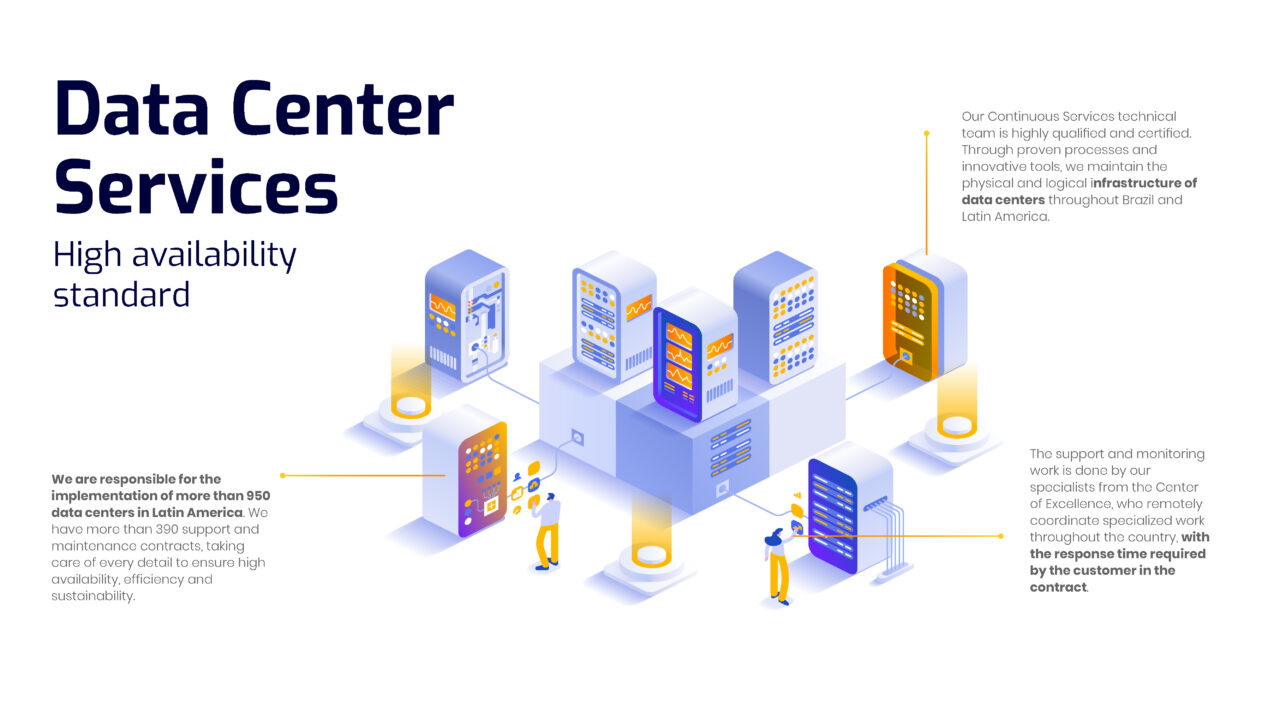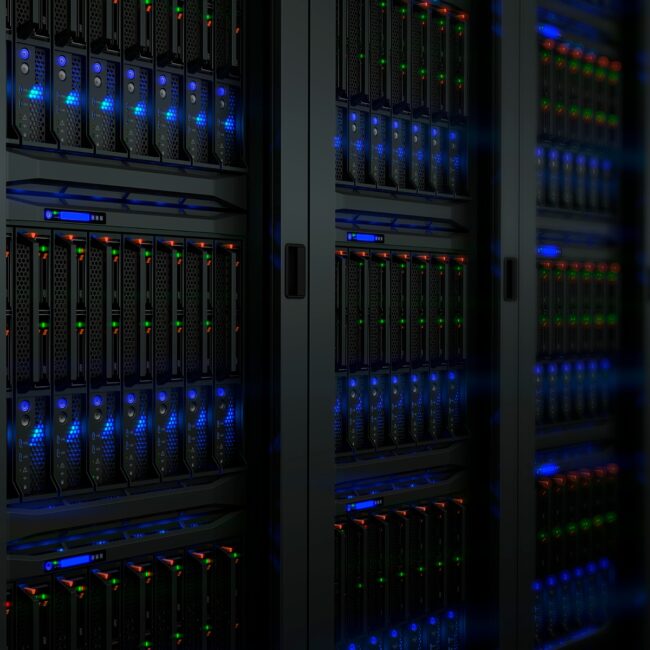 Pillars
We work by following best practices with qualified, experienced staff, with audited processes that follow the most stringent market standards, and using advanced IT service management tools. We offer:
– High knowledge and expertise of our technical team.
– Focus on the client to meet each phase in their technological Journey.
– International certifications that attest to our ability.
– Strong processes that support our execution and quality.
– Constant recycling and team improvement.
– Continuous investment in technology and methodologies of excellence.
– Reduced TCO [Total Cost of Ownership] of the operation to optimize CAPEX [Capital Expenditure] AND OPEX [Operational Expenditure] costs.
– Productivity aligned with sustainability for reducing carbono emissions.
What we deliver
After consulting and evaluation, we develop a customized service for each client, making our intelligence and expertise available to your company's competitiveness.
With solutions designed to maintain your data center's physical infrastructure, we provide managed services (Ongoing) with quality and excellence recognized by the market.
Get remote monitoring with ongoing management and analysis of the environment, backed by preventive and predictive action planning to ensure high data center availability and reduced need for corrective actions.
Our IT environment management (ON IT Management) solutions follow technical aspects in line with a demanding quality criterion, seeking the best performance and availability of your environment. With the right highly trained processes, tools, and resources, we manage your physical and logical environment. Operational support and assistance for your data center is designed specifically for business needs, raising your technology maturity.
In addition, we offer Life Extended – extended warranty after the manufacturer's original deadline – which safely extends the life of equipment and the investment made in the technology park.
For large structures, the DCIM (Data Center Infrastructure Management) solution ensures complete monitoring at all levels (energy, climate, connectivity, availability, security, asset management, capacity management, and thermal map).
IT Moving, our physical and logical infrastructure migration service, differentiates due to PMP management and an ITIL and COBIT certified team that plans an optimal migration strategy to ensure minimal downtime.
A pioneer in Brazil and Latin America, we are the company with the most Uptime Institute certified projects and facilities. We deliver the guarantee and reliability your IT operation needs.
What we do for you
Understand how this solution works
Want to learn more about Data Center Services?
Discover the advantages and benefits of this solution
Ensure high availability, performance and security for your mission-critical environment.
Insights
Inspiration and exclusive content for the digital transformation of organizations.